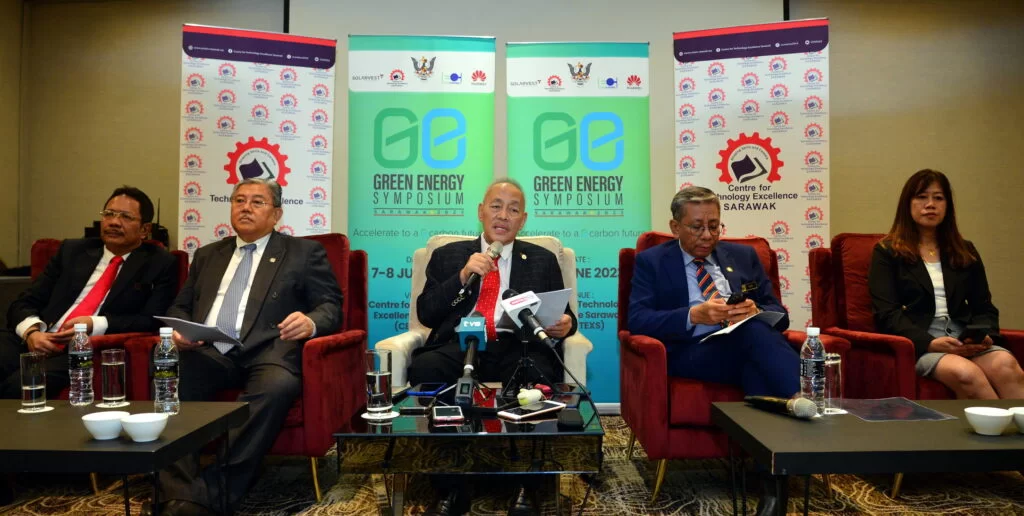 Minister of Education, Innovation and Talent Development (MEITD) Datuk Roland Sagah Wee Inn (centre) speaking at a press conference on Green Energy Symposium. Also seen from left are CENTEXS CEO Syeed Mohd Hussien Wan Abdul Rahman, CENTEXS Chairman Tan Sri Datuk Amar Mohamad Morshidi Abdul Ghani, MEITD Permanent Secretary Azmi Bujang and Ethos ConnectInternational Consulting Sdn. Bhd. Director Sim Ling Ling. Photo: Ramidi Subari
BY AWANG MUHAMMAD SYAHMI & JAMES WONG
KUCHING: Sarawak's determination to leading renewable energy in Malaysia and creating a more sustainable future for its people will come into focus over the next two days.
It will be showcased at the Green Energy Symposium & Exhibition 2023 (GEES) & Solar Tested 2023, slated for June 7-8 here.
Education, Innovation and Talent Development Minister Datuk Roland Sagah said the symposium will focus on Sarawak's interest in entering the green energy sector.
Minister of Education, Innovation and Talent Development (MEITD) Datuk Roland Sagah Wee Inn speaking at a press conference on Green Energy Symposium. Photo: Ramidi Subari
"The symposium is expected to draw over 600 participants, including delegates from West Malaysia, as well as neighbours such as Kalimantan and Sabah," he said on Tuesday (June 6).
Additionally, Sagah said that distinguished experts from various countries, including Europe, China, India, Hong Kong, and West Malaysia, will be featured at the symposium.
"The sessions will provide insights into green technology, environmental regulations and compliance, low carbon businesses, green financing, and carbon emissions trading mechanisms, aiming to help organisations achieve their goals for a low-carbon sustainable future," he said.
He said the ministry, in partnership with Centre For Technology Excellence Sarawak (CENTEXS), Sarawak Multimedia Authority (SMA), and Sarawak Digital Economy Corporation (SDEC), is concurrently running a Hydrogen and Tech Safari 3.0 as a green and technology clarion call to 10 locations in Sarawak starting from Lundu, Serian, Betong, Mukah, Bintulu, Miri, Lawas, Kapit, Samarahan and Kuching between May 20 until the end of the year.
Premier Datuk Patinggi Tan Sri Abang Johari Tun Openg will be officiating at the symposium which will be held at CENTEXS Kuching.
Also present during the press conference were CENTEXS chairman Tan Sri Datuk Amar Mohamad Morshidi Abdul Ghani, CENTEXS chief executive officer (CEO) Syeed Mohd Hussein Wan Rahman, ministry permanent secretary Azmi Bujang, and Ethos Connect International Consulting Sdn Bhd director Sim Ling Ling.
Taken from New Sarawak Tribune