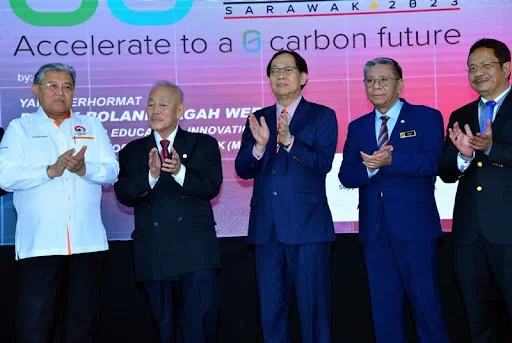 Sagah (second left) with, from left, CENTEXS chairman Tan Sri Datuk Amar Mohamad Morshidi Ghani, MEITD Deputy Minister Datuk Francis Harden Hollis, MEITD Permanent Secretary Azmi Bujang and CENTEXS CEO Syeed Mohd Hussien Wan Abdul Rahman applaud after the closing ceremony of the Green Energy Symposium Sarawak 2023. Photo: Ramidi Subari
KUCHING: Sarawak aims to encourage more students to pursue the science stream to enhance their STEM (science, technology, engineering, and mathematics) skills.
Education, Innovation, and Talent Development (MEITD) Minister Datuk Roland Sagah Wee Inn expressed his satisfaction with the upward trend in academic achievements in light of the improving results of the Sijil Pelajaran Malaysia (SPM) public examination in Sarawak.
As such, he said the Sarawak government, through his ministry, wanted to see a greater number of students choosing the science stream.
"We are very happy to see that the results are consistently improving, and we hope to see even more progress in the coming years.
"We want to see a greater number of students choosing the science stream. This is not to say that the arts stream is unimportant. It's just that our state's policies are inclined towards technology and digitalisation, which require a strong foundation in science.
"They don't need to become rocket scientists, but having knowledge in the STEM fields is essential. This knowledge is sufficient," he said.
He told reporters this after officiating at the closing of The Green Energy Symposium & Exhibition 2023 at the Centre For Technology Excellence Sarawak (CENTEXS) here yesterday (June 8).
Additionally, Sagah also emphasised the need for practical and hands-on learning experiences, even at the postgraduate level.
He noted that having a degree alone was not enough.
"We encourage students to pursue post-graduate courses that provide more practical exposure.
"At places like CENTEX, we offer certificate courses that are short-term but provide hands-on learning experiences in modern technology-related fields.
"We also have various test beds available for learning purposes," he added.
Commenting on the national unity slogan 'Segulai Sejalai,' acknowledged by Prime Minister Datuk Seri Anwar Ibrahim during his attendance at the national level Gawai Dayak celebration recently, Sagah expressed his hopes for a united effort towards progress.
"We hope we will live up to the word. We have fallen behind in terms of progress compared to Peninsular Malaysia. When we are 'segulai sejalai', we should be equal.
"We have a lot to catch up on, and we should be on par with what is happening in Peninsular Malaysia. It may take many years, but we can fast-track our progress," he asserted.
In light of this, he stressed the need for improvements in infrastructure, particularly for dilapidated schools in Sarawak.
"I am pleased to hear that the Prime Minister mentioned the need to enhance, improve and possibly even replace dilapidated schools, especially in terms of infrastructure.
"However, we will need to examine the details of the allocated budget to determine the specific actions to be taken.
"We will thoroughly assess the rebuilding process for these schools, not just focusing on classrooms but also ensuring suitable living quarters for our teachers.
"We want to take a comprehensive approach to address these issues," he said.
Taken from The Sarawak Voice