KUCHING (June 7): The two-day Green Energy Symposium and Exhibition Sarawak 2023 opens today at the Centre for Technology Excellence Sarawak (Centexs).
The event is run in collaboration with Ethos Academy of Skills Development.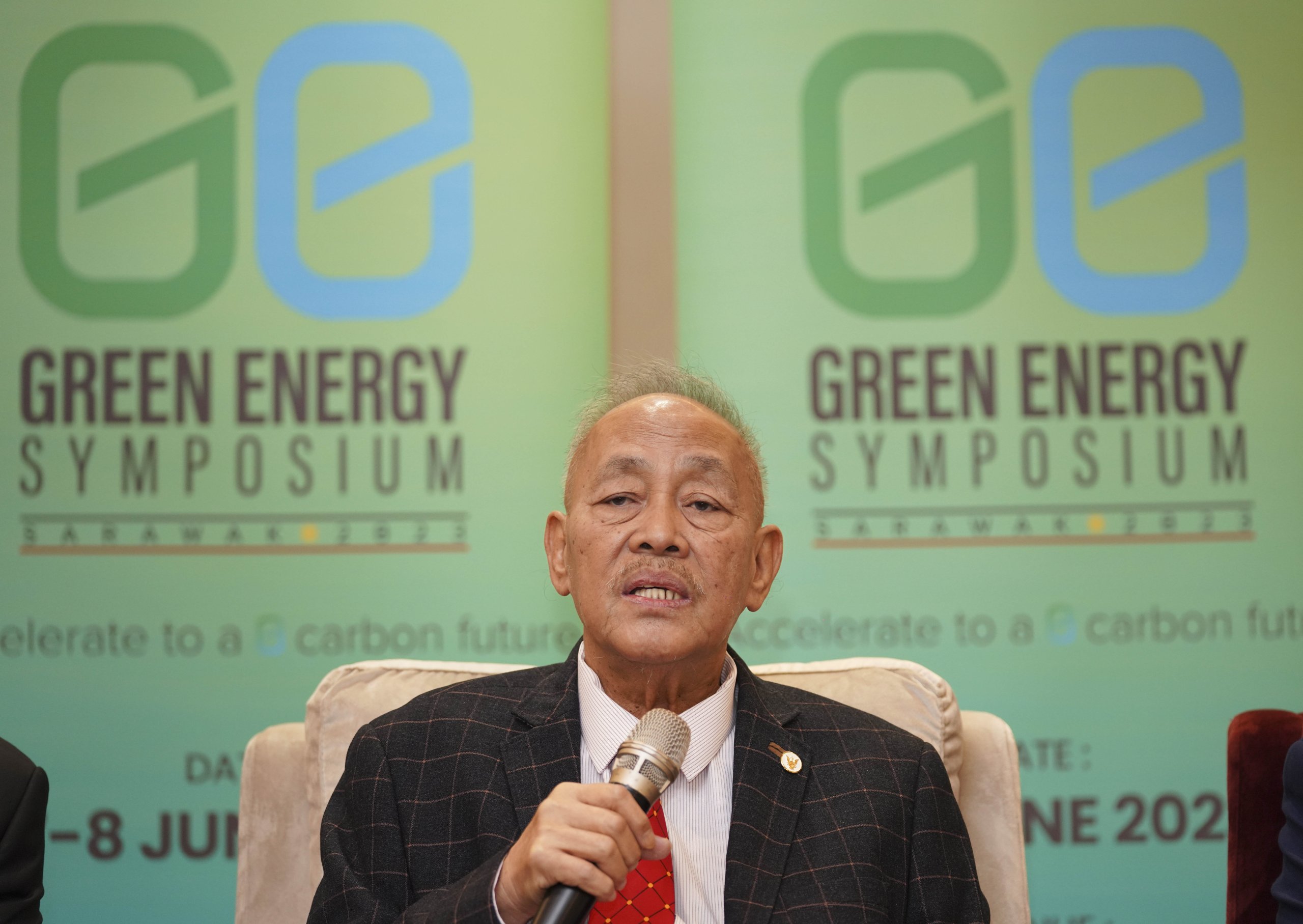 Sagah speaking at the press conference on 'Green Energy Symposium and Exhibition Sarawak 2023'. — Photo By Chimon Upon
In announcing the event, Minister of Education, Innovation and Talent Development Sarawak Datuk Roland Sagah Wee Inn said Premier Datuk Patinggi Tan Sri Abang Johari Tun Openg had been invited to officiate at the opening ceremony.
"The objective of the International Green Energy Symposium and Exhibition 2023 is to demonstrate and uphold Sarawak's commitment to being the leader in renewable energy in Malaysia, and also creating a greener and more sustainable future for its people," he said at the press conference held at a hotel here yesterday.
About 600 delegates from Peninsular Malaysia, Sabah and Kalimantan (Indonesia) are expected to attend the event, which will feature experts from Europe, China, India and Hong Kong.
About 300 plants and 300 solar-powered ornaments will be distributed to visitors on the first day of the symposium/exhibition, which will also house nine green technology exhibition booths.
"The sessions will provide participants with insights into green technology, environmental, social and governance regulatory framework and compliance, low carbon businesses and green financing, as well as carbon emissions trading mechanisms," said Sagah.
He said to support the Premier's green economy vision, he said his ministry, through Centexs, was conducting training meant to meet the needs of the energy industry by forging cooperation with industry partners to develop more green modules, skills and jobs.
According to Sagah, Centexs has made available four post-graduate training programmes in the field of green energy and environmental suitability: Certificate in Smart Solar PV issued by Huawei and Solarvest; Certificate in Green Mobility and Storage (Huawei and Solarvest); Certificate in Green Hydrogen (Solarvest); and Certificate in Environmental, Social and Governance for Enterprise (Intertek and Ethos).
"Alongside these, Centexs is in the midst of designing new green training programmes for school-leavers to realise Sarawak's 2030 aspiration, where all Sarawakians would have equal opportunities to participate in the state's overall development."
Moreover, Sagah said his ministry was working with Centexs, Sarawak Multimedia Authority and Sarawak Digital Economy Corporation to conduct a Hydrogen and Tech Safari 3.0 programme, running until the end of the year.
The programme will be carried out in Lundu, Serian, Betong, Mukah, Bintulu, Miri, Lawas, Kapit, Samarahan and Kuching.
In addition, Sagah said a product design competition utilising recyclable materials was currently underway, involving participation by Centexs staff and students from the institution's six campuses across Sarawak.
The results , said the state minister, would be announced during the closing ceremony of the symposium tomorrow (June 8).
"The ministry, through Centexs, is committed to supporting the sustainable green economy and energy transformation of Sarawak 2030 vision, with government support and collaboration with strategic partners, industries and communities," said Sagah.
Taken from The Borneo Post