KUCHING, Jan 11: Sarawak Digital Economy Corporation Berhad (SDEC) has launched a Precision and Discipline Agriculture Facility (PDAF) at Centre for Technology Excellence Sarawak (Centexs) Kuching today.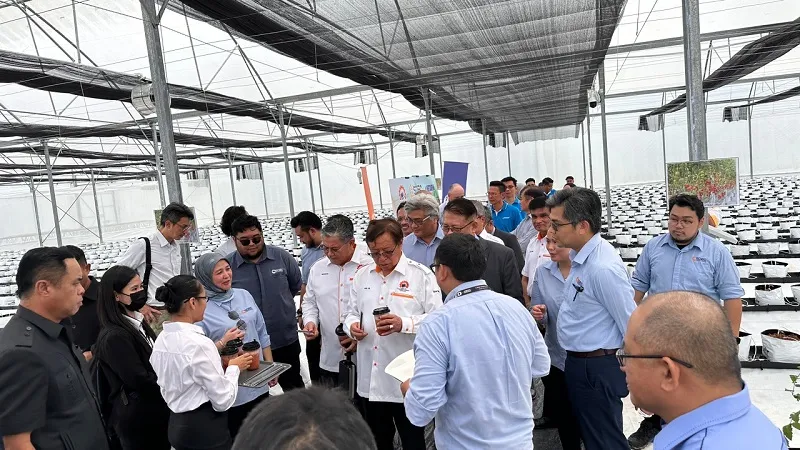 It is the first-of-its-kind fully integrated high-tech agriculture platform using Netafim's technology for greenhouses and open-field farming in Malaysia.
A collaboration between SDEC, Centexs and Netafim which is a global technology provider in the agriculture industry, the facility is specifically designed for lowland areas with integrated climate control and fertigation system via precision agriculture technology for large-scale farming fields and multiple greenhouses.
The facility was officially launched by Premier of Sarawak Datuk Patinggi Tan Sri Abang Johari Tun Openg and Centexs chairman Tan Sri Mohamad Morshidi Abdul Ghani in conjunction with Centexs' 7th Convocation Ceremony held at Centexs Kuching in Santubong here.
Currently focusing on cherry tomato and chilli crops, the facility will be used as a reference for other modern agriculture industries and smallholders to ensure the success of their smart agriculture initiatives.
Furthermore, SDEC said that the ability to utilise the open-field farming technology will provide flexibility for Sarawakian farmers to adopt the technology without having to change their farm set up.
Mohamad Morshidi pointed out that the launch of SDEC-PDAF demonstrated Centexs' commitment to driving digital innovation in the agriculture industry and optimising modern farming operations and entrepreneurship in Sarawak with the goal of empowering and supporting modern farming operations and the ecosystem.
"Most importantly, the facility will be used not only to develop sustainable commercial models for the widespread implementation of smart agriculture, but also to invest in the talent development of local farmers and entrepreneurs.
"By providing training and support in the latest technologies and practices, we aim to enhance the capacity of our farmers to become more productive and competitive," he said in a media release today.
SDEC chief executive officer (CEO) Sudarnoto Osman added that the facility aims to become the leading innovation facility for agriculture technology, standards, and demonstrate best practices for future agronomists or modern farmers.
"It will also be utilised for training courses for theoretical, conceptual, and practical syllabuses as well as to showcase cutting-edge digital technology in agriculture and digitally optimised modern farming operations," he said.
SDEC-PDAF consists of two greenhouses and two open-field farming areas, which are designed and built in accordance with global standards. It is also equipped with weather stations, Internet of Things (IOT) and automation systems, crops monitoring, fertigation and irrigation systems. All of these are centrally controlled through Netafim's micro controller and netbeat system.
SDEC is overseeing the facility's management and operation, while Centexs oversees training and courses on precision and discipline agriculture. Netafim offers solution consultancy services such as best practices, technical support and an agricultural recipe database. — DayakDaily
(Taken from Dayak Daily)